NPEC: Your Most Preferred Railway Tunnel Manufacturer in India
Railway Tunnel: Unyielding technologies are needed for the development and monitoring of intricate civil infrastructures like tunnels and railroads. Geophysics, integrated services, andcustomized solutions for railway tunnelling are all provided by NPEC. Tunnelling is supported during all stages of the project by NPEC tunnel solutions. We meet the highest quality and dependability criteria in terms of measuring performance and financial requirements for railways.
NPEC is the most favoured infrastructure and construction firm, offering comprehensive solutions to a range of sectors. We offer top-notch engineering services for infrastructure and building-related projects, supported by cutting-edge technology and qualified experts.The reputation of NPEC is built on timely project completion within the time frame specified and efficient use of resources, including materials, labour, and construction machinery.We have fabricated various Tunnel Formworks till date which have been customer-centric, eco-friendly and superclass construction.
any query – [email protected] /+91-94340-19992
Largely due to the fact that our Tunnel Gantry is our clients' top pick, they frequently request numerous accessories needed for tunnel construction and we have been able to met their expectations through our peerless services. For several tunnel projects, we have produced megatons of LATTICE GIRDERS and RIBS. The ISMB 150, ISMB 200, ISMB 250, and ISHB 200 pieces were used to make the ribs. In addition to this, we have produced a range of ROCK BOLTS, ANCHOR BOLTS, and BEARING PLATES. Sometimes air movement in tunnels calls for STEEL Ducting. So far, we have manufactured more than 50Km steel ducting for a variety of applications.
We have shown a strong commitment to encouraging a culture of safety, sustainable development, and excellent execution in tunnel projects for several years. With NPEC, it is now possible to plan and manage infrastructures in line with your needs. We are available to serve you with our top-notch innovation and technology guaranteed services!
Advantages of NPEC Tunnel Frameworks:
1. Strong but lightweight.
2. A quick delivery cycle
3. The gantry is installed by our expert, who also instructs the customer on how to use and maintain it.
4. Trial construction is carried out on-site, to ensure a quick installation at the site.
5. Very timely post-purchase help.
6. The best hydraulic components are employed, ensuring years of trouble-free operation.
7. Each system features a double lock, making it extremely secure. 8. A structural and hydraulic design team is available within the company
Railway tunnel Manufacturer in india:
NPEC Tunnel Formworks or Tunnel Gantry is the most admired product of ours. We have fabricated various Tunnel Formworks till date starting from 3.3mtr dia to 20mtr diameter. Our range includes complete mechanical gantry, complete hydraulic gantry or a combination of mechanical and hydraulic formworks. The shape is as per the requirement of the project namely Horse Shoe Gantry , Modified Horse Shoe Gantry, D type Gantry , Bellmouth gantry and also special gantries for various locations in the tunnel like Cavern Gantry, Pocket Gantry, T junction or Y junction Gantry etc.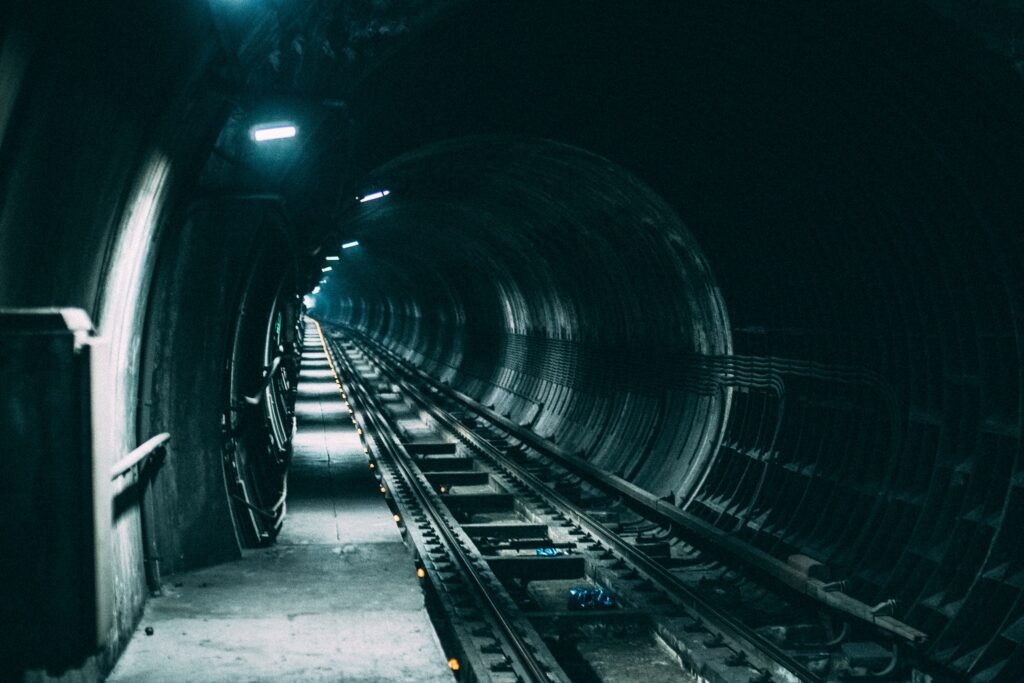 One of our signature gantry is a 6 mtr long 20mtr dia and 16 mtr high gantry with a concrete lining of 1 mtr. Our tunnel gantries are lightweight yet strong and can be used without any problems for as long as you can. Our gantry can be used for lining upto 1.5 mtr of concrete thickness. The product is customized based on the requirement of our clients.
Some of the advantages of using NPEC tunnel formworks are
1. Light weight yet very robust.
2. Very fast delivery cycle.
3. Our technician installs the gantry and educates the client in its operation and maintenance.
4. Mock assembly is done at works and hence very fast installation at site.
5. After sales support is very prompt.
6. Best hydraulic components are used which guarantees trouble free operation for years.
7. Every system has a double lock and hence very safe.
8. In house Structural and Hydraulic design team.
Our various tunnel gantry offerings are given below.
1. Self propelled hydraulic tunnel formwork
2. Horse shoe hydraulic/mechanical tunnel gantry
3. D type hydraulic/mechanical tunnel gantry
4. Cavern tunnel gantry
5. Modified horse shoe hydraulic tunnel gantry
6. Pocket tunnel gantry
7. T junction tunnel gantry
8. Y junction tunnel gantry
9. Bellmouth tunnel gantry
10. Mechanical tunnel formwork
The fact that our Tunnel Gantry is the most preferred choice for our customers, our customers demand for various accessories that is required in Tunnel Works. Till date we have fabricated thousands of tons of LATTICE GIRDERS and RIBS for various tunnel projects. The Ribs have been made from ISMB 150, ISMB 200, ISMB 250 and ISHB 200 sections. Apart from this we have manufactured various types of ROCK BOLTS and ANCHOR BOLTS and BEARING PLATES. At times tunnels require STEEL Ducting for air circulation. We have fabricated more than 50Km of Steel Ducting till date for various projects.
Tunnel work accessories
1. Rock bolts
2. Ribs
3. Lattice girders
4. Anchor bolts
5. Bearing plates
6. Sn rock bolts
7. Air duct ventilation pipe line
8. Turn buckle
9. Screw jack
10. Steel flush doors
any query – [email protected] /+91-94340-19992
Website – Visit Here